Saranghae, Sir: Romance in the K-drama Workplace
Is it wise to fall in love at work? If you were a Park Min-young character in a rom-com then you'd surely say yes. K-drama office romances are a dime a dozen and they would have you believe that it's always a good idea to mix business with pleasure. In our latest Saranghae Series, we take a closer look at the k-drama office romance.
More than half of k-drama romances occur in the workplace and if you consider Korean work culture, you'd see why. Have you always wondered how k-drama office workers spend SO much time in their offices? They start out really early and leave when after dark, often to end up drinking with their colleagues AFTER work. It's not entirely fictional.
South Korean workers spend an inordinate amount of time at work. In fact, as recently as 2018, the South Korean Labor Standards Act was amended to limit an employee's maximum work hours from a whopping 68 hours to 52 hours per week. In 2019, a study of OECD countries showed that Koreans worked 1,967 hours a year per employee. That's well above the OECD average of 1,726 hours. And in 2020, the average working hours of a South Korean employee was at 163.6 hours per month.
Hoesik Culture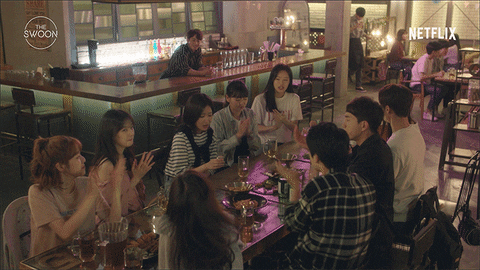 That doesn't even take into account hoesik culture. Basically, hoesik is eating and drinking together with one's colleagues after work. Most foreigners who work in South Korea are often surprised by being pressured to socialize with colleagues past working hours.
But for South Koreans, hoesik is an important ritual that helps build company culture. In the presence of alcohol (read more about it it here), the stiff formality of the office is somewhat loosened and many conversations that wouldn't normally occur in office cubicles can occur around the drinking table. In fact, a quick survey of large company buildings in Seoul will show that these are surrounded with restaurants and drinking establishments precisely for this reason.
So it would make sense that if you spent so much time at work, you might as well find your significant other there.
Park Min-young's Playbook
As a disclaimer though, we have no idea if South Korean companies have a "no fraternization" policy. But if we go by k-drama reality, it would seem no such thing exists, especially if you watched any of Park Min-young's k-dramas.
Although Park Min-young didn't invent the office romance trope, she certainly made her mark in it. In Healer, her character falls for her co-worker played by Ji Chang-wook. (Can we blame her?) In What's Wrong with Secretary Kim and Her Private Life, she charms her bosses portrayed by Park Seo-joon and Kim Jae-wook, respectively. (Can we blame them?) And she turns the table in Forecasting Love and Weather by being the boss to her admiring subordinate played by Song Kang. She could very well write a bestselling how to book on making workplace romantic relationships work.
But before you become her disciple, maybe you'd like to consider some of the pros and cons of dating a co-worker.
Pros and Cons
Pro: You get to see your significant other regularly.
If your significant other happened to look like Park Seo-joon or Ji Chang-wook, then surely, you wouldn't mind if you not only dated them but worked with them as well. Imagine being actually paid to be around somebody you'd want to spend your free time with. Out-of-town business trips can double up as romantic getaways. Ah, it'd be the sweet life, the best of both worlds.
Con: You get to see your significant other regularly.
It's always a double-edged sword with love. Space (physical, emotional, and not to mention professional) between lovers exists for a reason. Many people like spending some parts of their day
away from their significant other, if only to get time to miss them. And that's even on a good day. Can you imagine having a fight with someone AND being forced to work with them everyday?*shudders*
Pro: Secrets in the office can make things exciting.
In k-dramas, secret lovers are always trying to steal hugs and kisses in empty staircases and hold hands under the table during company lunches. It'd be great to have a difficult day and suddenly find a friendly face in the elevator for a boost of positive energy that no one else knows about. The possibility of these cutesy little scenarios happening is enough to make you scour through your roster of eligible colleagues for a potential lover.
Con: Secrets in the office can make things stressful.
Secrets are all nice and good unless gossip gets out first. And before you know it, human resources will be on your tail. Or since they seem to be absurdly inept (or non-existent) in k-drama romances, your jealous colleagues can really make life hellish. Maybe you'll be accused of sleeping your way to the top or getting preferential treatment if your boyfriend is your superior. Yikes. Is ANY relationship worth that level of stress?
Pro: You understand each other's work culture.
Since you spend a significant amount of your day at work, you will obviously have a life that you'll have to explain to your significant other—inside jokes, overtime schedules, company gossip. But if you work in the same place, then you won't have to try so hard to make someone understand your point of view and you won't have to worry that they'll resent you for spending so much time at work when you need to.
Con: You have the same work culture.
If your company goes under, you and your significant other will still have the same work culture: unemployment. (We bet Park Min-young's characters never have to worry about that).
We haven't even begun to scratch the surface with this (e.g. sexual harassment, power differentials, performance appraisals, etc.) but thank goodness those things never seem to matter in fantastical k-drama workplace romances. Below we take a look at some not-so-famous (i.e. not starring Park Min-young) workplace rom-coms.
Business Proposal (2021)
The latest in a long line of office romance hits, Business Proposal stars chaebol Kang Tae-moo (Ahn Hyo-Seop) who must contract Shin Ha-ri (Kim Se-jong) to be his pretend girlfriend to get his meddling grandfather off his back. But he doesn't know that Ha-ri is only a stand-in for her best friend and actually works in his company. Mistaken identity, forced intimacy, believable chemistry, and a great second lead couple help make this drama a fan favorite.
Touch Your Heart (2019)
Yoo In-na stars as a second-rate actress who needs to do some "research" for her next big role–being a legal secretary. Enter Lee Dong-wook, a no-nonsense hotshot lawyer, who reluctantly becomes Yoo In-na's temporary boss. The chemistry between Yoo In-na and Lee Dong-wook were so fiery in their previous drama Goblin, that they just had to do a rom-com where they were both leads to satisfy their fans.
The Secret Life of My Secretary (2019)
After being attacked, CEO Do Min-ik (Kim Young-kwan), develops face blindness. The only person he can recognize is his long-suffering secretary Jung Gal-hee (Jin Ki-joo). The once confident CEO now has to rely on his secretary for everything, and realizes to his confusion that he doesn't just want her in his professional space but in his personal life as well.
She Was Pretty (2015)
Kim Hye-jin (Hwang Jung-eum) was born with a silver spoon in her mouth. But fate intervened and after her family goes bankrupt she learns what it's like to live on the other side of the tracks. She now works in a fashion magazine with chief editor Ji Sung-joon (Park Seo-joon) who can no longer recognize his childhood friend but is still inexplicably still drawn to her.
Introverted Boss/My Shy Boss (2017)
A tragedy leads Chae Ro-woon (Park Hye-soo) to work for the CEO of a public relations company. CEO Eun Hwan-ki (Yeon Woo-jin) is ironically an introvert and a recluse who is trying to get over a difficult past of his own.
Clean with Passion for Now (2018-19)
Jang Seon-kyul (Yoon Kyun-sang) can't stand getting messy and is seriously afraid of germs. He turns his liability into an asset and has a thriving cleaning business. Sparks fly when untidy and messy Oh-sol (Kim Yoo-jung) starts working in his company.
Into the Ring/ Memorials (2020)
Goo Se-ra (Nana) has just won as a city councilor and will need the help of her reliable assistant Seo Kong-myung (Park Sung-hoon) if she is to get anything done in a work environment hostile to newbies. Of course, the fact that he used to be a childhood friend and is now a handsome public servant just makes things a little complicated.
Monthly Magazine Home (2021)
Na Young-won (Jung So-min) has just been evicted and is desperate for a job. She is hired as an editor of a monthly magazine with the main goal of selling real estate. The fact that her new boss Yu Ja-seong (Kim Ji-seok) also happens to be the landlord who evicted her makes her life a lot more interesting than she'd like. All the odds are against this romance from blooming but hey, we're always down for some cute bickering.
Level Up (2019)
An Dan-tae (Sung Hoon) is a ruthless corporate executive whose expertise is making floundering companies profitable. His latest acquisition brings him into contact with Shin Yeon-hwa (Han Bo-reum) a game developer who is more interested making a fun game than in turning in profits. They butt heads (and eventually fall in love, of course) as they try to negotiate a win-win situation for all.
Strong Woman Do Bong Soon (2017)
It isn't every day that a woman gets asked to be a bodyguard for the CEO of a gaming company. But then again, not a lot of women have superhuman magical strength. When Do Bong-soon (Park Bo-young) gets hired by An Min-hyuk (Park Hyung-sik), she has no plans at all of falling for him since she's still hung up on In Gook-doo (Kim Ji-soo), but that doesn't stop Min-hyuk from trying anyway.
I Am Not A Robot (2017)
It's a twist from the workplace romance as Yoo Seung-ho (Kim Min-kyu) doesn't actually hire Jo Ji-ah (Chae Soo-bin), but buys her. Before your woke heart gets offended, you should know that he thinks Jo Ji-ah or Aji-3 is a robot, so when he starts developing feelings for her, you can imagine how complicated his life is about to get.