The Weekend Binge: "Business Proposal"
Unapologetically trite, Business Proposal is the perfect example of how you don't need to re-invent the k-drama rom-com wheel to churn out a ratings winner.
Based on a popular webtoon called "The Office Blind Date," the silly rom-com Business Proposal reigned on top of Netflix's global non-English series ranking for three straight weeks. With its brilliant mix of humor, swoon, steaminess, and tongue-in-cheek writing, this 12-episode series is bound to be a staple on lists of fun k-dramas fans will be recommending for years to come.
The Plot
Food researcher Shin Ha-ri (Kim Se-jeong, The Uncanny Counter) agrees to go on a blind date to help her best friend, chaebol daughter Jin Young-seo (Seol In-a, Mr Queen), scare off the guys her father wants her to marry.
But she doesn't know that the guy who would be sitting across the blind date table from her is none other than Kang Tae-moo (Ahn Hyo-seop, Lovers Of The Red Sky), the new workaholic CEO of the company she works for.
To complicate things, Young-seo encounters Tae-moo's dashing secretary—Cha Sung-hoon (Kim Min-kyu, also spelled as Kim Min-gue, Queen: Love and War)—in a convenience store, and falls madly in love at first sight.
It's a setup that has all the makings of a rom-com classic.
The Review
Quick, name your favorite rom-com trope? Contract relationship, secret office romance, love triangle, forbidden rich/poor romances? Name it, Business Proposal probably has it.
But—and I never expected to write this in 2022—that's not actually a bad thing.
The SBS writers took a large scoop of k-drama's most-used romance tropes, and mixed them all up to magically produce the delectable cotton candy fluff our guilty pleasures are made of. Every episode of this show was a hilarious riot, with sprinklings of swoon in just the right places and an unexpected-yet-very-much-welcome amount of steaminess, serving us viewers with 12 hours of pure joy and escapism.
The first ingredient they got right was the cast.
Displaying an uncanny talent for comedy, the multi-talented Kim Se-jeong delivered a sidesplitting performance as Shin Geum-hi—the sexy and modern alter ego Shin Ha-ri created (along with her twins Samantha and Rachel) to fool Kang Tae-moo.
Picture-perfect Ahn Hyo-seop, as the swoon-worthy yet socially awkward chaebol CEO, manages to go from irritating boss to adorably lovestruck boy without breaking character.
And then they struck gold with the casting of Kim Min-kyu and Seol In-ah: Him in a career-making role as the hot and perpetually unbothered secretary, and her in a refreshingly cheerful role as the rich and gorgeous best friend we all wish we had. With off-the-charts chemistry and an instantly legendary kiss, this pair threatened to steal the show at every turn. (Check out our list of other second lead couples we stan)
As a bonus, they even gave us an iconic k-drama-watching chaebol harabeoji (grandfather) with perfect hair, in what we're sure will be added to veteran actor Lee Deok-hwa's long list of memorable roles.
Beyond the cast and characters, the second thing that worked for the show was the tone.
The writers' tongue-in-cheek approach to the whole show made for much of its success. That the characters were watching a hilariously self-referential rich chaebol heir–poor girl k-drama throughout the course of the series tells you all you need to know about how meta this show is. They were having fun with the genre, which allowed us to enjoy it even more.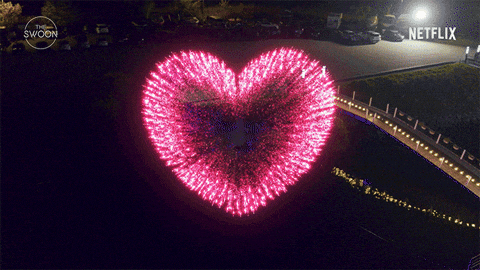 From the ubiquitous umbrella scene to the amusement park date and the happy ending under a canopy of perfect cherry blossoms, Business Proposal is packed with clichés and tropes. Ahn Hyo-seop's character even references these clichés toward the end, in another wink from the show's writers.
In fact, the only unpredictable thing about the series seems to be which rom-com trope it's going to pull out next (guessing that was actually part of the fun).
The third ingredient they got right was knowing which tropes to avoid.
There are no damsels in distress here, with the two female leads perfectly smart and capable women (except when they need to kill a cockroach). The workaholic CEO may be annoying at the start, but he's no toxic bad boy who has to undergo an implausible character change. And there are no complex backstories of missed childhood connections to imply they were always destined to be together.
The only thing I wish they did better at was the ending, which fell short of the grand fun finale I felt this show deserved. And my biggest complaint? That it only had 12 episodes. There were certainly more than enough unused tropes left for a few more episodes to give us fans a more satisfying closure.
Unapologetically trite, Business Proposal is the perfect example of how you don't need to re-invent the k-drama rom-com wheel to churn out a ratings winner. The tried and tested, in the hands of a good director and a witty writer, portrayed by the right actors, will work. It doesn't always have to be so complicated.
Stream it: If you're in need of a laugh or a break from the real world.
Skip it: If you don't like fun things in life.